Come explore Scotland's larder in the heart of Perthshire…Loch Tay
Not only is Loch Tay one of the most beautiful areas to visit, it's also one of the tastiest. It's host to some incredible small food and drinks producers as well as many high quality restaurants, cafes and bars.
Local Producers…
If you have a sweet tooth, look no further than Iain Burnett – The Highland Chocolatier in Aberfeldy. Iain is a truffle specialist who's won over 40 top awards for his gourmet, artisan treats. You can visit the shop to pick up gifts for the chocolate connoisseur in your life, enjoy a chocolate tasting experience with the man himself or simply indulge in a few (or many) truffles alongside a freshly brewed loose-leaf tea in the Chocolate Lounge.
For those seeking a jolt, there is Glen Lyon Coffee, also located in Aberfeldy (fun fact, they support all our coffee at The Ferryman's Inn). Truly passionate about coffee they source the finest beans worldwide and roast them right here in Scotland. Originally set up in Glenlyon in 2011, they relocated a couple of years later after realising that the good,old Scottish winter weather was causing more than a few headaches in such a remote spot. They now have a bright, airy space with room to continue growing in a converted gym. They are open to the public Monday to Friday where you can see them roast, cup and showcase their delicious coffees.
MacDonald Bros Butchers specialise in quality Aberdeen Angus beef which has been their hallmark since the business began in trading in Aberfeldy in 1928. They source their meat from local farmers, including Mr Geordie Soutar, Kingston Farm, Forfar and Mr George McFadzean, Woodhead of Mailor, Perth, to ensure continuous quality. Priding themselves on personal, friendly service and maintaining the traditional standards of customer care where nothing is too much trouble this family business is a stand out. Ideal for picking up delicious, locally sourced meat to cook at your self-catering property here at Taymouth Marina.
For a true taste of Scotland visitors should check out Falls of Dochart Smokehouse. Located in Killin, round the other side of the loch from the Marina, they produce and serve high quality whisky smoked salmon. They have a small, local team who passionately care about every step of the process, from curing and smoking through to slicing and packaging – all done by hand and it shows! The hot and cold smoked salmon is delicious and makes for a fabulous starter or tasting platter both as a take away or dining in at their champagne bar and tasting counter.
A Scottish foodie experience is nothing without a traditional Distillery and Aberfeldy boasts the wonderful Dewars Distillery. They began their pursuit of Scotch whisky perfection in 1898, and have been producing some of the finest and most beautifully balanced whisky ever since. You can enjoy their interactive exhibition and discover how they double age for extra smoothness. Afterwards, relax in the welcoming café and Whisky Lounge and enjoy a whisky tasting from the John Dewar & Sons Fine Scotch Whisky Emporium or fill your own bottle from their hand-selected casks. A truly authentic Scottish experience.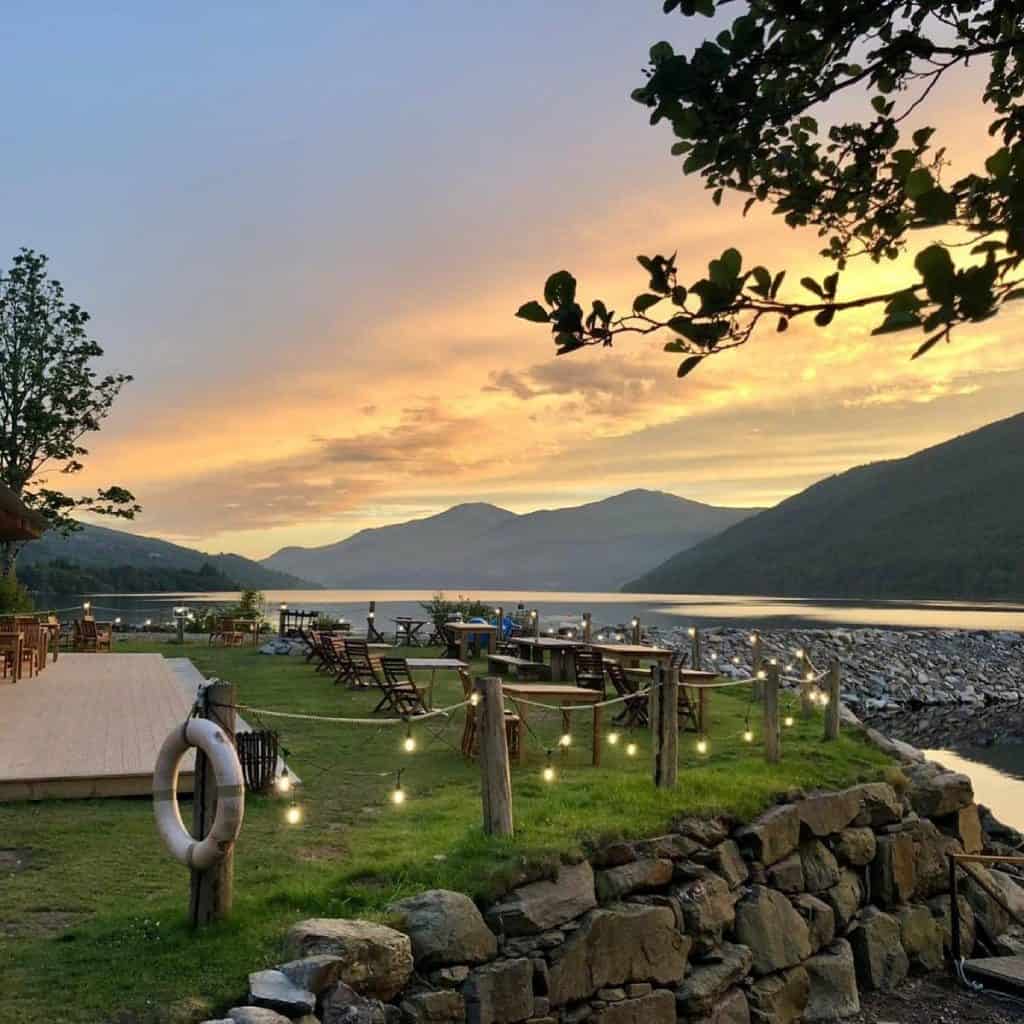 Dining Out…
Right here in Kenmore there is the wonderful Courtyard Bar and Restaurant featuring upbeat modern, delicious, 'back to basics' Scottish cuisine, prepared and presented by knowledgeable and friendly staff. An ideal spot for a light lunch, refreshing drink or a brasserie dinner in a relaxed atmosphere.
Further round the Loch between Kenmore and Killin you can find the historic Ardeonaig Hotel and Restaurant. They pride themselves on working with the finest local producers and regularly host themed tasting menus with paired wine selections.
For those seeking a little bit of history, be sure to have a drink at The Kenmore Hotel which is widely considered Scotland's oldest inn. Built as a tavern in 1502, the inn offered both accommodation and refreshments. The Inn has been graced with some very famous faces over its long history including Cromwell and his army (who were so impressed by it they spared the hotel from being torched for a change), Queen Victoria honeymooned here and Rabbie Burns wrote an ode to Kenmore's scenic beauty from the Poets Bar.
Visit Highland Safaris for a unique experience combining breathtaking Highland scenery, Land Rover Safaris, inspiring walking & biking activities, and their exclusive Red Deer Park and Gold Panning Centre. Once you have worked up an appetite from all these activities there is their Highland Safari Cafe which is a friendly, warm and welcoming place to enjoy wonderful, simply prepared local produce.
Thyme at Errichel Restaurant is located in a beautiful stone built 'round house' based on the design of a traditional horse gin. The restaurant is within Errichel House at Errichel Farm, a working hill farm 2 miles up the hill from Aberfeldy town centre. They offer beautiful and comfortable surroundings for elegant, yet relaxed dining. Their menu showcases the best of Scottish and British produce with flavours and influences from around the world. With an extensive wine list, cocktail menu and specialist spirits all chosen to enhance your dining experience.
Here at the Taymouth Marina you'll find TheFerryman's Inn: a Gastro-bar with a warm welcome, friendly service, roaring fires and scenic views across the Loch to Ben Lawers. Our carefully curated menu focuses on local, sustainable, and organic produce with a wood-fired pizza oven and open-grill taking centre stage.
After a rather hectic summer we were temporarily closed for a refurbishment, new menu development, recruitment, and training so that we can continue with the next exciting chapter in the Ferryman's. We are overjoyed to be re-opening again from the 4th of November with a delicious new menu and fabulous drinks for you too.
There is so much to see and do around Loch Tay but we can't think of a better way to enjoy the area than by experiencing all the gastronomic delights it has to offer. Hopefully this has given you some food for thought while planning your stay with us at Taymouth Marina.