What's new at Taymouth Marina…
It feels like just yesterday we were taking in the spectacular views of the snow on the hills but now with a few sparks of sunshine we have fully activated summer mode.
We had a busy winter period but made sure to carve out time to think and act upon all of your feedback over the last year. That said, we are coming in hot with some fabulous new additions.
We hope you are as excited as we are for this up and coming season…
Watersports re-opened a few weeks ago with a bang! The water may still be a little chilly but that does not stop our wonderful clientele from hopping on a SUP or taking the little ones out on a pedalo. As long as you have the right equipment for these slightly chillier months it's easy to have bucket loads of fun on the loch!
You may also have seen our brand new giant water trampoline on our social media lately. It can hold up to 3 adults – 4 children and at just £30 for a 30 minute session it's guaranteed to put a smile on everyones faces.
Our beautiful sunset paddles are also returning this year and shall begin week commencing 24th of April. A stunning way of taking in the beauty of the breathtaking Loch Tay with friends and your very own professionally trained guide.
You'll exit from the marina on your stand up paddle board and be taken on an adventure down the Loch to see the sights of our little local islands and beaches.
Whilst at the beach we shall have our packed snacks and something to quench our thirst then head back to (fingers crossed because we are in Scotland and our weather systems are unpredictable at best lol!) see one of your magnificent sunsets.
These tours are available Friday to Sunday, 6pm – 8pm and are just £30 pp which includes all equipment… wetsuit, SUP board, buoyancy aid, one of our fabulous pro guides, snacks and a drink! To book our fabulous range of watersports click here.
We posted on our socials last year about what new activities you would like to see here at the marina and this one came out on top!
Trail biking through the woodland with all of your family and friends was definitely something that you said you would love so we have made it happen!
We have various sizes of bikes available and the hire hut shall just be along at The Marina Shack cafe bar. These shall launch on the 18th of May so make sure to join our mailing list to be the first to receive the booking link!
We are delighted to announce that The Ferryman's Inn shall now be operating 7 days per week with just an hour of closure, 4-5pm, per day to accommodate set up.
We have also tweaked our menu slightly which you can find below!
As you may know it is always best to reserve a table inside as these fill up very quickly. The terrace and garden are take away only and are first come, first served.
We'll catch you soon for a cold beverage on the banks of Loch Tay soon we hope!
Picnic area, Garden swing & Kids playground incoming… Now this is all very exciting!
One thing you have mentioned over the years is a slight lack of children's activities so of course, as soon as we could, we wanted to rectify that!
We have therefore, started purchasing/ build on the picnic / play area. This shall include rentable deck chairs with immediate access to the Marina Shack drinks hut and a huge climbing / play frame for the kids. We shall also have a dedicated area to toast marshmallows and play a few games of boules too. These are for guests and visitors so need to book ahead just turn up and have as much fun as possible.
We have also installed a huge swing right at the end of The Ferryman's Inn where it meets the promenade. Think magical sunset, ambient music, glass of G&T in hand and a hug on this beautiful swing facing Loch Tay & Ben More. Sounds like heaven doesn't it!
We are delighted to now be in a position to also extend our garden area which shall mean more seating for our lovely customers during what's set to be a very busy summer!
We have been lucky to inherit a few more stunning properties on the resort, one of which has the largest hot tub on resort and all with spectacular views across the loch and on to Kenmore village.
If you haven't booked to stay this year then this is your sign!
Take a look and book our stunning apartments now!
Sunset sessions return… you love the live music evenings here so we have made sure to bring back your favourite acts from last season!
There may be a few more pop up events during the summer season so as usual please follow us on social media to keep up with all of the news.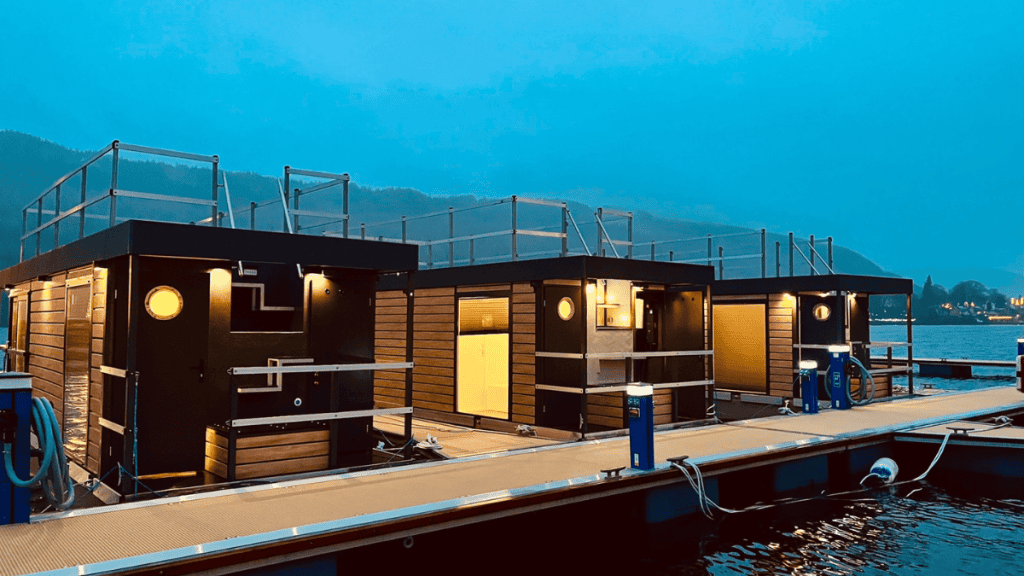 After some delays we are now confident that we shall be able to launch both our Houseboats and our new apartments "Drummond View" very soon.
Tentative dates for Houseboats are… bookings available from June for stays commencing July 2023. We shall have a 2 night minimum and maximum stay policy due to the size and functionality of these.
For Drummond view we shall take bookings from July for August 2023 stays. These apartments have state of the art lighting, surround sound music systems throughout, beautiful mod cons, hot tubs and incredible views too. To add to this we also welcome the very first fully accessible accommodation to the resort.
We shall make sure to let you know when these booking links become available so please make sure to sign up to our mailing list and mark our emails as safe / priority to be the first to access.
The Taymouth Marina team is going from strength to strength and working in such beautiful surroundings is really a huge career benefit so if you, or someone you know is looking for a change of scenery or a new challenge within our beautiful resort why not check out the list of vacancies we currently have on offer.
Well I am sure you'll agree it's all hands on deck with so much more to come including kids summer activity programme, mini festival, return of the wild woman retreat and pop up parties / tastings. We can't wait!
Let's have the best season yet!
Happy summer…
From your Taymouth Marina Team x