Why Loch Tay is one of the best lochs in Scotland
Scotland is famed for its beautiful freshwater lakes – or lochs, as they are known here. There are over 30,000 lochs in Scotland, many of which can be easily reached from large cities like Edinburgh, Glasgow and Aberdeen.
As 2020 is Scotland's Year of Coasts and Waters, we thought this was an ideal time to highlight our favourite loch – Loch Tay! Stretching over 23 kilometres, Loch Tay is quintessentially Scottish, with a breath-taking backdrop of green countryside and majestic Munros.
How to access Loch Tay
Whether you are planning a day trip or a long stay by Loch Tay, it's easy to get down to the water's edge. You can approach the loch from the south, through the village of Killin, or from Kenmore at the loch's northern head.
Though it feels remote and peaceful, Kenmore can be reached from all over Scotland. The city of Perth is just over an hour's drive and Edinburgh, Glasgow and Dundee can all be reached in under two hours, making this loch an ideal weekend getaway spot.
History
Scotland is renowned for its rich history which captures the imagination of all visitors, and Loch Tay is no different.
Originally, around 2000BCE, the loch was home to Iron Age settlers who set up artificial islands on the loch. These are known as Crannogs, and they were homes and shelters for the people who built them, remaining in use until the Middle Ages. You can visit a reconstructed Crannog at the Scottish Crannog Centre in Kenmore and imagine what life would have been like for these early settlers.
Loch Tay even has somewhat of a dark history, for fans of Scotland's mythological past. One of the islands in its centre is rumoured to be the burial site of Queen Sybilla of Scotland, who may have died on the island. And the traditional Scottish tune, the 'Loch Tay Boat Song' is a tragic tale of unrequited love which might tug on your heartstrings if you hear it.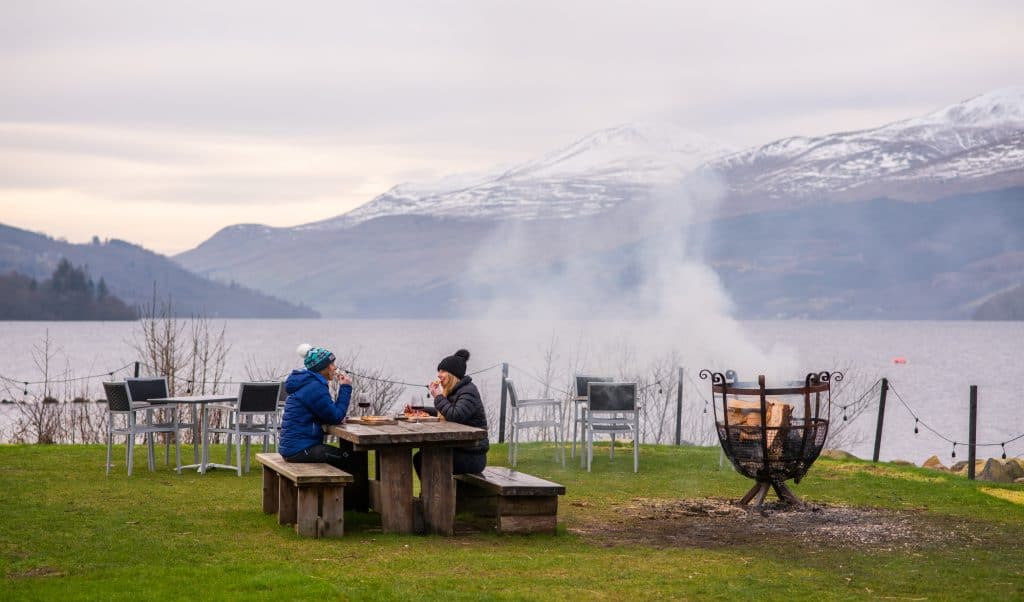 Water sports
Loch Tay is blessed with still and glassy waters, so it's no wonder that water sports have become so popular. From kayaking and sailing to stand up paddle boarding and even wild swimming, the loch's waters are a great place to spend your day in and around. The lochs in Scotland might be a bit on the cold side in winter, but a bit of freezing water isn't enough to stop the Scots from leaping in!
You can hire boats, paddleboards and even inflatables from Taymouth Marina, and we offer deals on advance bookings and group packages – ideal for a family trip.
Hikes
For anyone who prefers land-based activities, you're in luck. Kenmore makes a great base for a range of excellent Munro hikes – a Munro is the Scottish name for mountains over a certain height. The Ben Lawers mountain range is a great place for bagging a few Munros, including Ben Lawers itself, which is the tenth highest Munro in Scotland.
But don't worry, there are plenty of more relaxed walks you can take from Kenmore, including a brief stroll to the Falls of Acharn, hidden in a quiet ravine and accessible through the 17th century Hermit's Cave.
Nearby activities
Perthshire is a hub of fantastic things to do, and Loch Tay is right in the middle of some great activities for the whole family.
We would recommend a trip to Acharn to visit Charlotte Flower Chocolates, a chocolatier that produces handmade chocolates inspired by their natural surroundings. Here you can try unique chocolates flavoured with local elderflower, coffee, Scots pine, and of course, whiskey!
A visit to the Scottish Crannog Centre is a must too, you'll have a great time exploring the reconstructed Iron Age home. They also hold great events steeped in Celtic culture and history for those who want to learn more.
For even more ideas of things to do around Loch Tay, visit our blog.
Stay
You can stay right on the banks of Loch Tay at Taymouth Marina. We have a variety of self-catered accommodation with fantastic views over the loch, many with their own private hot tub. Many of our apartments and cottages are dog friendly too, making them perfect for a holiday with the whole family, four-legged friends included!
Nights in our accommodation also include spa access at the HotBox Spa and Sauna. Here, you can relax in style in our sauna and steam room, before finishing off with a swim and a drink in our Hydro Pool.
Loch Tay is a stunning Scottish loch which makes a perfect location for short overnight getaways or longer staycations. Truly offering something for everyone, we think these features make Loch Tay one of the best lochs in Scotland.
Are you looking for stylish accommodation on the banks of Loch Tay? Book your stay at Taymouth Marina online or call us on 01887 830216.